More Opportunities and Resources in 2020:
New Benefits & More Options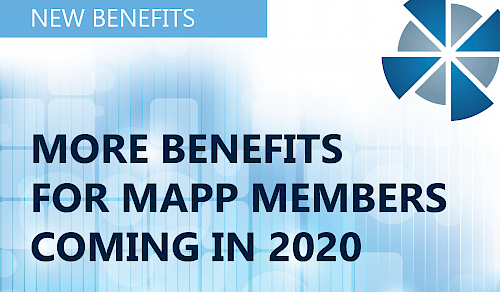 Exciting new benefits and opportunities are on the horizon for MAPP members in 2020.
New Benefits
Each year, MAPP's Leadership Team engages in strategic planning. Using the information we gather from our members throughout the year and in our annual Satisfaction Survey, MAPP looks to expand and enhance the value offered to the membership. Below are 10 new benefits and resources available to MAPP members in 2020 - however, more resources, cost-savings programs, networking opportunities, benchmarking and events are added throughout the year.
MAPP has partnered with Thayer Leadership Development Group at West Point to bring industry leaders a comprehensive and intense leadership training workshop.
Now, MAPP members are able to subscribe and get updates discussions on the MAPP member forum at their chosen frequency. To sign up to the forum: visit the forum, login, select "User Control Panel" from the dropdown under your username, then click "Digests," and select the subscription and frequency for you, and click submit.
Designed and requested by MAPP members, MAPP will hold its first event focused solely on quality. Members will present, share experiences, network and learn during this 1.5-day event.
To help members see previous, current, and upcoming benchmarking studies, MAPP created the "Plastics Industry Information Hub." Members can visit this page (located under the Resources Tab) to see when reports will be published, which studies they are able to participate in, purchase published reports, and even request specific benchmarking studies.
5. New Best Practices Collection Initiative
As part of the new 2025 MAPP Vision, every MAPP member is asked to submit one best practice from their company. This initiative will solicit, collect and post these best practices in a searchable format so members can find new, proven ideas and solutions to their challenges.
In order to build and guide the industry's upcoming leaders, MAPP's Young Professionals Network has established a mentorship program. Through this program, experienced plastics industry leaders can elect to be a mentor, and are paired with an industry young professionals to mentor them over the course of the year. This program allows senior leaders to give back to the industry while allowing young professionals to gain important access to a seasoned mentor.
A new member landing page has been created to help new MAPP members understand how to get started in MAPP and get access to important resources. While this page was designed with new members in mind, this page is also a valuable resource for current MAPP members, as a way to introduce new employees and team members to the MAPP network.
In conjunction with Plante Moran, MAPP developed a team of industry professionals to help improve the NAPIS (North American Plastics Industry Study). The data and information from this study include important financial benchmarks and are often presented during the Benchmarking & Best Practices Conference. In 2020, even more opportunities to participate and gain knowledge from the study will be offered exclusively to MAPP members.
Over the years, MAPP members have asked for a way to get some of the information shared at events they are unable to attend. To that end, all in-person events and paid webinars will share a recap and overview on the Recaps and Archives page on the website.
Through MAPP's MRO Savings Program with Grainger, MAPP members are now eligible for even more discounts and savings through Grainger. Webinars and information will be shared throughout the year to help members find ways to save even more.
The MAPP team is working harder than ever to provide the most valuable and powerful benefits, no matter where you are located or how large or small your organization may be. It is our goal to provide each one of our members with more than a dollar's worth of value for a dollar's worth of dues.
If you have questions about how to access any of these new resources or programs, or suggestions on how we can improve - reach out to the MAPP team at info@mappinc.com or 317-913-2440.